Superhuman Project – 3 Keys To Breakthrough (Click Play)
Day 34 of my "Superhuman Project" (#SHP), Sunday 8th Nov 2015:
Sleep: 11pm till 6am. Woke up refreshed.
Began the morning with yoga (1 hour) and breathing exercises (30 mins).
Then only did I have my breakfast.
Tim Ferriss's 4 Hour Body book lesson/s of the day:
No reading done. Didn't bring the book on this trip.
3 F's – Fun, Flow and Flexibility: 
Even changing the focus on anything you're doing can result in more fun and fulfillment.
I changed my focus in my freediving training today to flowing with what my body was communicating to me and then I was flexible in my approach to making progress in freediving.
Today I focused on gaining more awareness and deeper relaxation as I descended down the line. I slowed down all my movements and paid attention to perfecting my body position by making 2mm shifts.
This resulted in a massive breakthrough in freediving today.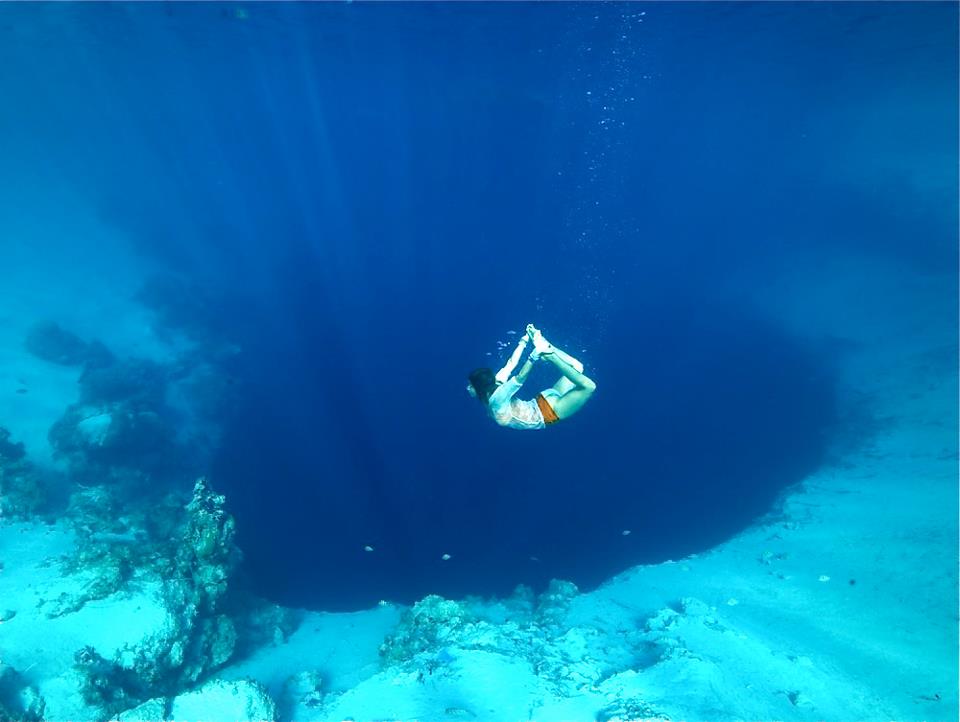 Here's the progress for day 34 of my superhuman project.
Measurements Recorded (on 27th Oct 2015)
Body weight – 76.4 kg (just an additional measurement because I had an initial goal of dropping to 75kg).
Biceps (Left / Right) – 13.0 in / 13.0 in
Waist – 34.5 in
Hips – 38.2 in
Thighs (Left / Right) – 21.4 in / 21.7 in
Total Inches – 143.4 inches
**Notes: 
Both biceps stayed the same.
Waist reduced by what seems like 0.9 inch.
Hips almost the same.
Thighs increased a little.
Looking good!
Superhuman Diet
Breakfast:
1 glass of water + 1 tsp wheatgrass powder.
4 hard-boiled eggs + 70g canned tuna.
Notes:
This filled me up just nice.
Lunch:
1/2 portion rice + panang chicken curry with long beans (medium portion).
Large portion Thai kana green vegetables in oyster sauce.
Dinner:
2 medium sized pork pieces (about 250g) + mixed vegetables served on a hot plate.
Snacks:
Morning snack (just before freediving):
Half a small bag of cashew nuts.
Evening snack (6pm): 1 ice latte.
Night snack (9:30pm):
70g canned tuna.
1 tsp wheatgrass powder in water.
Superhuman Workout:
Yoga:
1 hour of my usual routine.
30 mins of the apnea breathing exercises and routine.
Freediving training (Open Water):
Very slow free immersion sets, focusing on moving slow, deepening relaxation and increasing awareness on body posture and position. All full lung sets today to avoid getting squeezed and blood again.
FIM sets: 1st set 10m in 1:25. 2nd set 18m in 1:55. 3rd to 5th set all to 20m in about 2:05.
Then did CWT (constant weight fins) focusing on relaxation and body position.
Did 3 sets of CWT all to about 25 or 26m. Felt slight squeeze in throat come in about 22m onwards.
The 1st was fast in about 1:10. The 2nd and 3rd set I remembered to free fall earlier and kick slower in the way up, lengthening dive time to about 1:25.
Very fulfilling and rewarding day. This was a major breakthrough day with deport levels of comfort and relaxation, plus with no blood in throat for once. Very very happy with my awareness and progress today.